A Tartan Texas: Exciting Raffle Update!
On June 14, 2019 By
administrator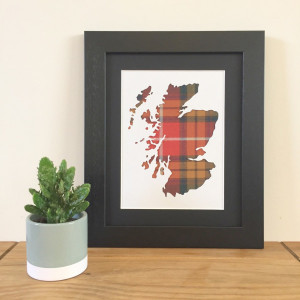 We are thrilled to announce one of our raffle items for our upcoming Scotland Send-Off Show - a bespoke piece of Texas-shaped Tartan artwork custom made for our event! We have partnered with Scottish Artist Tessa Palmer, who lives in the Scottish Highlands, and creates meaningful modern artwork mixing the beautiful and unique woolen texture and assorted colors of Scotland's renowned tartan fabric with any geographical or meaningful shape relevant to her clients. See previous samples of her custom work below or visit her Website at https://palmerdesignsscotland.com.
So, more reasons to come to our upcoming Scotland Send-Off Show on July 6 at 5:30 p.m. at ABGB! No cover charge!
AND -  If you'd like to learn even more about Tessa, we encourage you to listen to a recent episode of one of our absolutely favorite podcasts called Under The Tartan Sky, where she was featured.  A link to the specific episode is below, and we encourage you to explore more of Glen Moyer's lovely episodes that explore all things Scottish in intriguing fireside-like conversational settings. 
Podcast Episode: http://www.underthetartansky.scot/podcast-episodes-1/2019/2/16/x-marks-the-spot-the-geographic-tartan-art-of-palmer-designs-scotland